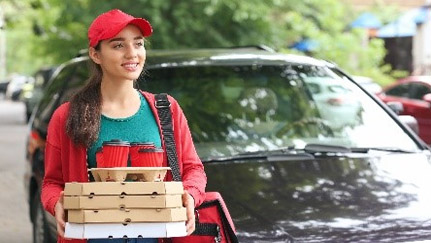 Things restaurants should consider to manage risk when adding a delivery service.
Some restaurants are considering or have already decided to add delivery services to stay in business during the COVID-19 pandemic. While adding delivery does not seem complicated, it adds loss exposures and risk to your organization.
The following are guidelines for businesses setting up food delivery services.
Vehicles and driving
Contact your insurance agent to ensure you have the proper coverage. This is particularly important if your employees are driving their own vehicles or you are purchasing or renting additional vehicles.
Make sure your driver has adequate driving experience, a valid driver's license and an acceptable motor vehicle record: no DUIs, no major violations, and no more than three minor violations and accidents in the last three years.
If employees are driving their own vehicles:

Make sure the vehicle is owned by the employee or their parent; view the vehicle registration card.
Verify that the vehicle is insured by viewing a copy of the vehicle's insurance card. Limits of $100,000/$300,000 for bodily injury and $35,000+ for property damage are typical.
Confirm the vehicle is in good condition by inspecting it and obtaining a copy of a valid inspection report from a state inspection agency or repair/service facility to confirm there are no outstanding safety issues.

Establish safe driving policies such as: no cell phone use while driving, seatbelt requirement, no passengers, etc. Click here for sample rules.
General safety
Drivers must follow COVID-19 safety procedures as outlined by the Centers for Disease Control and state and local regulations.
All payments should be electronic and made at the time of order. No cash transactions should occur.
Ensure orders are legitimate and recorded.

Use a phone with caller ID and record the number when receiving a customer call.
Record all order addresses and phone numbers so you know where your driver went.
Look for suspicious orders: caller not sure about address or phone number, caller seems intoxicated, caller does not know what they want.

Ensure drivers understand the importance of personal safety.

Watch for suspicious activity while driving or at the delivery location.
A driver should never make a delivery to a location where they feel unsafe.
No deliveries to concealed or poorly illuminated areas. Call the customer to come out to get the order.
No deliveries to hotel rooms; only lobbies. Use caution in multi-family complexes.
Delivering alcohol
Follow all applicable federal, state and local liquor laws.
The delivery person is to be at least 21 years of age and completed TIPS/TAMS training.
Alcohol must be in an approved, sealed container before leaving the restaurant and through completion of the delivery.
The person who is accepting the alcohol is to be at least 21 years old and must present valid identification to match the person's name on the order.
If the person accepting the alcohol is visibly intoxicated, the delivery should be cancelled.
Additional resources
Temporary Delivery Driver Safety Policies
Safe Driving Commitment Form (Non-Owned Vehicle Operators)
Non-Owned Vehicle Driver Safety Orientation Checklist
Non-Owned Vehicle Authorization and Operation Form
Mobile Device Safety Policy
Vehicle Inspection Report Form
Subscribe to our newsletter for timely content in your inbox