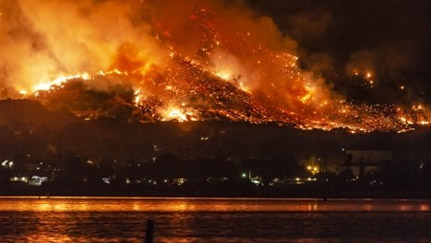 Tips to prepare your business in the event of a wildfire emergency.
"Wildfire" is a word that sends chills and fear into many Western State residents. In those states, the risk of wildfire is growing, not only in exposure but also in severity and duration.
Some Interesting Facts Related to Wildfire:
Wildfires burn differently based on the vegetation involved. Below are a few examples:

Grass and Desert Scrub – Flame length 8 feet. 3,000 acres can burn in one hour. Travels at 4.5 mph.
Riparian Areas (heavy brush) – Flame length 55 feet. 1,000 acres can burn in an hour. Travels at 3 mph
Pine forest – Flame length 10 feet. 150 acres can burn in an hour. Travels at 1.5 mph
Mixed conifer – Flame length 8 feet., 10 acres can burn in an hour. Travels at 0.25 mph
Tall Chaparral – Flame length 47 feet., 3,600 acres can burn in an hour, travels at 8.5 mph

When flame lengths are greater than 11 feet. fire suppression efforts will be ineffective. Evacuation is needed.
Based on current weather conditions in the southwest and west, wildfire season is year-round.
To prepare and safeguard your facility, home, and other structures we recommend the following to be performed:
Create a fire safe zone, with a minimum of 100 feet from the structure by removing all combustible material such as brush, combustible fencing, firewood, and other combustible storages. Consider hardscaping around your facility such as gravel, pavers, concrete and other non-combustible materials.
Any fuel in the area such as propane, diesel tanks, etc. should be at least 100 feet from your structure. Cutbacks and segregation from fuels is also termed as "Fire Wise/Defensible Space."
Remove vehicles stored near the facility to a safe distance of 100 feet from any structure.
Trim any overhanging branches from surrounding trees.
Identify all utility shut offs for gas and electric.
Back up all critical documents and electronic data to an offsite location.
Develop a complete and current emergency contact list with all phone numbers of employees, to include all emergency phone numbers for Emergency Management, Police, Fire, and EMS.
Develop an evacuation plan for your facility to include all employees, with identification of evacuation routes.
Maintain free and clear access to and from your facility for fire department and fire crew access.
Maintain a basic stock of drinking water and food supplies.
Consider facility improvements such as non-combustible roofing and siding as applicable.
Finally, when evacuation orders are being issued by an Emergency Management Authority, EVACUATE IMMEDIATELY – do not remain in your facility or attempt to fight a fast advancing wildfire. Leave your facility or home to the firefighting professionals!
If you do find it necessary to evacuate due to wildfire, remember the FIVE "P's" of immediate evacuation:
People and pets
Papers
Prescriptions
Pictures
Personal computers and data
The thought of losing everything to a fire is not a pleasant one.  Should the unthinkable happen, you can be prepared to account for all that was lost so that you can quickly get back on your feet. The simplest and most effective method for generating this information is by inventorying the contents of your business.  Below are easy ways to get started, and tips for how to get through the process smoothly.
Written (both analog and digital) and visual records of possessions are a good first place to start. With the ubiquity of mobile phones equipped with cameras and note-taking apps, it's easy to compile a video and/or photographic record of equipment, furnishings, and other important items.
Don't try to do it all at once; break the process into smaller chunks, such as room by room. Incorporate the task into periods when you're already interacting with your equipment, tools, furniture, etc. such as during a seasonal turnover or deep cleaning day.
When compiling your inventory, details are important. While recording the contents of your buildings, take note of the quantity and location of the items.  For higher value pieces such as equipment, serial numbers, model names/numbers, and purchase orders/invoices for purchase of items should be documented and gathered.
Don't forget your storage space! If you have extra/spare equipment or fixtures in a basement, attic, or other out of the way area of your building, be sure to include these in your list.
Once the video/photo and written record of your inventory is complete, it should be backed up. Along with a USB flash drive or SD card, web-based cloud services such as iCloud, Google Drive, and Drop Box should be used for digital files.  Good old-fashioned paper lists (stored in a fire safe with other important documentation) should not be overlooked as another viable option.
With your prepared inventory, your assigned Claims Adjuster can quickly and efficiently work through your claim with extraordinary care should a fire or other catastrophic loss occur.  This will ensure accuracy in the claims process, so you can get your business back up and running sooner.
We've partnered with the Insurance Institute for Business & Home Safety, of which Nationwide is a member company, to provide the following additional resources:
Subscribe to our newsletter for timely content in your inbox