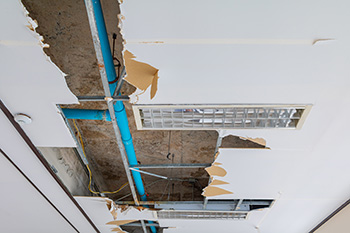 Fire damage usually steals the headlines in terms of catastrophic losses to property. However, non-weather-related water claims are among the most common type of property insurance claims.1 Commercial, non-weather water damage losses cost the insurance industry over $16 billion per year.1 According to the United States Congressional Budget Office, if you add in weather-related hurricane and flood damage, these figures are well over $50 billion annually.   
Water damage can negatively affect building owners or occupants in multiple ways. These effects can include production delays, occupancy delays, liquidated damages, reputational risks, increased insurance costs, etc. Water damage can have a direct financial impact with losses to building structure, equipment, improvements and betterments, and general occupancy. Sources of water damage can be either exterior- (ground water, adjacent properties, rain, storm surge, ice dams, etc.) or interior-driven (domestic-use plumbing, automatic sprinkler systems for fire protection, mechanical systems, condensation, etc.).
Most water damage losses are preventable. Reducing these losses takes a multiprong approach with a water damage mitigation program. The steps of the program should include:
Dedicate a team who have been trained and understands how to address water sensitive issues
Document all re-work and repairs
Address water sensitive issues quickly
Ensure all shut-off valves are located and marked adequately
Verify your water damage response plan is ready to be implemented
Be prepared to implement your severe weather plan
Centrally monitor automatic sprinkler systems
As applicable, utilize leak detection/water sensors in common areas.
Without a water mitigation program, water can flow undetected and uncontrolled for prolonged periods of time, causing substantial water damage. The resulting damage and losses affecting the building could extend to its contents, landscaping, as well as equipment. Arising liability claims, extra expenses, temporary housing or necessary relocation, and possible business interruption can last for months during clean-up and renovations.
Nationwide has a customizable Water Mitigation Program (WMP) that is designed to be a guide to help building owners and occupants of all sizes create a customized plan to protect facilities, assets, and integrity from the impact of water damage. Click here to sign in to our website and navigate to the Property focus area to access the program.
Subscribe to our newsletter for timely content in your inbox