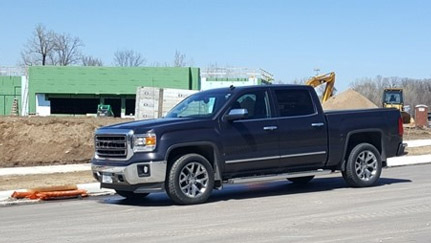 Learn how new vehicle telematics features can provide significant value to contractors and the construction industry. Fleet safety and asset tracking are just a few of the added benefits to vehicle tracking.
Vehicle telematics were originally designed for use in trucking, service and delivery industries to track vehicle locations. However, telematic capabilities and features have expanded to a point where it feels like these systems were designed specifically for the construction industry. With many new capabilities, and a cost of less than $25 per vehicle per month, it is a good time for contractors to consider a telematics system.
Knowing the location of all your equipment is just as important as knowing vehicle location. Many vehicle telematics systems are now offering asset trackers which can be installed on both powered and non-powered equipment such as bulldozers, skid loaders, trailers, and air compressors. This allows you to monitor all your assets through the same portal.
One of the most useful advancements for contractors is the well-designed phone app, allowing site managers and foremen to leverage telematic capabilities from their phone. Need to know when building supplies will arrive, when a crew has arrived at another jobsite or where the closest grader is? Just check your app. Some systems even allow you to share the location of a specific vehicle with an individual on a temporary basis, such as a backhoe operator, who can benefit from knowing the location of dump trucks bringing backfill to a site.
Telematics also enhances customer service for service contractors. For example, staff can tell exactly where their technician is when a customer calls, all without sending the technician a distracting call or text. "Closest to location" features aid organizations in quickly identifying the closest vehicle which can respond to emergency calls. Historical trip maps are often used for measuring on-time performance and verifying billing, based on arrival and departure times.
Contractors and service organizations often allow staff to take vehicles home at the end of the day. This allows them to depart directly for their first job in the morning. While beneficial, this practice creates concerns about the employee using the vehicle after hours and on weekends for personal use, or possibly unauthorized use by a family member. Most telematics systems now have features which allow the organization to track or alert when a vehicle is operated outside normal work-related hours. These curfew alerts can serve as a theft notification for vehicles parked in the yard or on a construction site if moved after hours. Alerts can also be triggered if a vehicle or equipment travels outside a defined geographic area (geofencing).
Vehicles taken home daily may be more difficult to inspect and maintain as they are not seen by the shop as often. Many telematics systems have maintenance scheduling capabilities which can notify the driver and/or shop personnel when maintenance is due, based on tracked mileage. Staff can indicate when maintenance is completed, triggering the next cycle. Also, many systems have the ability to notify the driver or manager when an engine problem exists. When an engine light comes on the diagnostic trouble code (DTC) is communicated, allowing staff to promptly identify and address the problem. This may prevent engine failure related to a driver failing to report the dashboard warning.
When hiring staff, contractors rarely focus much time on evaluating safe driving skills, even though a substantial portion of their role involves driving. With auto accident liability on-the-rise and crashes a leading cause of worker fatalities, contractors can benefit from enhanced telematic safety features. Monitoring a driver's speeding, hard braking, cornering and harsh acceleration events has been a staple of telematics. Contractors can really benefit from new cell phone use monitoring and gamification features available on driver apps. Gamification allows drivers to see their own safety scores, review how they did on each trip, and see how they are performing compared to co-workers. Drivers often improve their own driving scores with minimal management intervention when they can monitor themselves and have the additional peer pressure of others seeing their scores.
These are just a few of the many benefits telematics can provide to enhance safety, customer service, and operations of a contractor. The Nationwide resources below provide additional resources and information.
Telematics Selection Guide — Advanced
Telematics Implementation & Coaching Guide
Telematics and Smartphone Apps
Everything You Need to Know About Dashcams
Distracted Driving Prevention Technology
Subscribe to our newsletter for timely content in your inbox