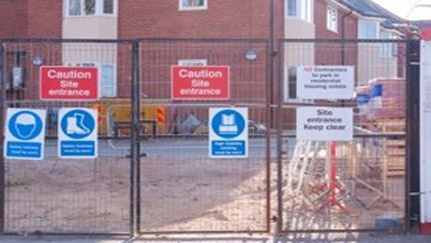 Construction sites that are shut down due to emergencies can experience even bigger issues when they are reopened, if not shut down correctly.
Safety, security, health and environmental factors must be addressed to properly secure a jobsite. Being prepared for jobsite shut downs will provide your company with a strategic plan to efficiently manage emergencies when immediate responses are critical.
The most common exposures associated with idle jobsites include crime (theft and vandalism), property (fire, water and weather damage) and liability (public protection). These exposures can lead to significant losses such as insurance claims, re-work and/or further delays when construction resumes.
Implementing the strategies below will help you mitigate losses during an emergency.
Crime (theft & vandalism)
Ensure proper operation of security systems and cameras.
Maintain secure fencing around the jobsite.
Remove or secure tools, construction equipment, generators and machinery. If not removed, they should be locked and secured.
Maintain inventory logs of equipment and materials left on site. Logs should include serial numbers and purchase orders and be backed up in a secondary location.
Install GPS monitoring devices or other security alarms, such as Tattletale®, on the equipment and materials that must be left on the jobsite.
Only essential personnel should be allowed access to the jobsite.
Conduct daily site security patrols and inspections.
Stop or postpone material delivery to the site.
Property protection
Maintain active or inactive fire protection systems, in accordance NFPA®.
Maintain a building temperature of at least 40 degrees to prevent the wet pipe sprinkler systems and water pipes from freezing.
Ensure procedures are in place for the safe use of temporary heating devices.
Create and implement a Water Intrusion Mitigation Program to assess and eliminate water intrusion exposures.
Install leak detection systems throughout the project.
Shut off and drain unnecessary domestic water lines and utilities.
Enforce "No Smoking" rules for essential personnel still on site.
Remove or secure all flammable and/or combustible liquids in UL-approved storage cabinets.
Remove all waste products from the building, such as trash and combustible materials and maintain good housekeeping practices.
Liability – public protection
Post "No Trespassing" warning signs.
Check fencing and lighting around the site to ensure proper operation.
Ensure open trenches are back filled or covered.
Secure building materials to ensure they do not fall, causing damage to the materials, the public, or the completed portion of the project.
Conduct daily inspections of existing public protection measures (barricades, barriers, and canopies).
Create and implement a plan for severe weather events and monitor weather forecasts.
Idle jobsites create unique exposures and potentially significant losses. With proper implementation of these suggested actions during an emergency or shut down, losses can be mitigated.
Nationwide Loss Control Services has partnered with Tattletale Portable Alarm Systems, Inc. (tattletale®), the world's first portable, digital and cellular security system with high performance wireless sensors. These devices provide 24-hour monitoring to your jobsites or property. For additional information on our discount partnership, click here.
Subscribe to our newsletter for timely content in your inbox