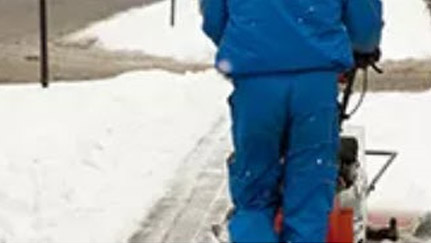 Learn about storm preparation, snow removal contractors and what to do if an injury occurs on your property.
A guide to help you manage snow and ice-related risks
All businesses should have a program in place for removing snow and ice.
The accumulation of snow and ice on walkways, stairs, driveways, interior roadways and parking lots can lead to unsafe conditions and slip and fall injuries, and those can be a problem for any business. In addition to injured persons, legal issues created by slips and falls can drive up accident-related costs for a property owner and might also result in higher insurance premiums.
A formal snow and ice removal program
One way to help prevent slip and fall losses is by having a formal snow and ice removal program in place, and Nationwide®believes that all businesses, no matter their size, should do so. We encourage you to implement a program similar to the one outlined in this brochure, which is designed for use by the property managers and maintenance staff of any type of commercial property, from small retail shops to large apartment buildings.
How to plan for a storm before one arrives
Some recommendations for helping to manage your snow- and ice-related risks include the following:
Create a written snow and ice removal plan in advance of wintery conditions. The plan should include an outline of responsibilities, staffing details, identification of potential problem areas, communications, and prestaging of equipment, supplies and follow-up procedures.
Develop a snow and ice removal log to document activities. Build in a review process to make sure your program is working as intended. (See "How to create a snow and ice removal log" on Page 4).
Securely place foul weather mats at building entrances. As people enter buildings, tracking in snow and ice, entranceways can become slippery and hazardous. Foul weather mats should be placed securely inside entrances for a distance of 40 feet whenever possible. Place mats in each direction a person may travel. Make sure mats do not curl; presenting an additional hazard.
Encourage residents and employees to report hazardous conditions as soon as possible so corrective action can be taken promptly. Every reasonable step should be taken to prevent accidents. Consider using newsletters, websites, flier postings on bulletin boards and meetings to communicate your safety messages.
When an accident occurs on your property
Complete a snow and ice incident report, using the form described on Page 4 that Nationwide makes available to our members
Promptly report the injury to the Nationwide claims unit at 1-800-421-3535
Photograph the accident scene
Photographing an accident scene
To help protect your financial interests and resolve claims quickly, take photos of the accident or incident scene, using a smartphone or another type of digital camera. For times when no one has a smartphone handy, provide an easy-to-use digital camera at each of your building locations.
Here are some tips to keep in mind when taking photos:
Make sure the camera has zoom capability
When photographing the physical circumstances of the alleged incident (e.g., slippery step, cracked concrete, etc.), take a series of photos leading up to the exact location of the alleged mishap
Focus the camera within a 1-to-3-foot range for close-ups of small items, such as a protruding screw or nail
Photos should be taken when any type of accident occurs on your property, not just incidents involving snow and ice. The photos should then be uploaded or emailed to your Nationwide company claims representative.
Tip: It's best to take a series of photos leading up to the exact location of the alleged incident.
Things to keep in mind when hiring a contractor
Follow these guidelines when choosing a snow removal contractor:
Carefully select your contractor before the start of the winter season. Consider quality of work, ability to react quickly to a storm, adequacy of equipment, experience, reputation and ability to meet the unique needs of your building or facility.
In selecting contractors, protect your financial interests by using sound risk transfer techniques. Insist on a signed written contract between you and all contractors before they begin work at your site.
A contractual agreement between you and any contractors should include these elements:

The contractor must agree to maintain general liability insurance coverage of at least $1 million and also provide you with certificates of insurance.
The contractor should name you as an additional insured on their liability policy.
The contract should contain liability agreements and waivers of subrogation in your favor.
The contractor should agree to hold you harmless if there are liability claims arising from the action, inaction and/or workmanship of the contractor. The contractor also should agree to waive subrogation rights.
Snow removal contracts are legal documents and should be reviewed by your attorney. You may also want to consult your insurance agent regarding contractor exposures.
How to create a snow and ice removal log
Besides removing snow and treating icy surfaces as rapidly as possible, it's important to document those activities in a log. Nationwide has developed a Snow and Ice Removal/Treatment Log (CMO-0448AO) for use at your properties. In the "Comments" column, consider adding detailed information such as supplies used or the amount of time and number of staff needed to complete the task.
If an injury or claim is filed as a result of snow and ice, inform your Nationwide Claims representative that you have maintained a snow and ice removal log.
By always documenting the date and time of the removal/treatment activity, you and your staff can:
Provide critical information to use in addressing personal injury claims
Standardize the procedures that all location managers should follow
Provide an immediate electronic record of such activity
Enable records to be uploaded or emailed to your main office, allowing management to track activities, establish priorities, balance staffing and check billing records
Note: Be sure to maintain the same log, even when work is performed by outside contractors or a combination of staff and contractors.
How to create a snow and ice incident report
Anytime an accident occurs, you should complete a snow and ice incident report, and Nationwide can provide an easy-to-use form for this purpose. By completing one of our Incident Report forms (CMO-0449AO), you can provide:
Pertinent information needed by the claims department
Documentation to your company of an accident
A starting point for investigating accident causes and developing corrective actions in your procedures, methods and management systems
Notify your Nationwide claims representative that you've completed a snow and ice incident report. Please note that Incident Report form should be completed for all accidents, not just those involving snow and ice.
Make use of our forms in your snow and ice removal program
Nationwide offers a special log form to help you document actions you take in implementing your snow and ice removal program. Plus, we can provide you with a second form to use when making a record of any incident resulting in an injury or involving a crime.
To obtain an electronic copy (with editable fields) of one or both forms, call your agent or contact Nationwide Loss Control.
Providing solutions to help our members manage risk
For your risk management and safety needs, contact Nationwide Loss Control Services: 1-866-808-2101 or LCS@nationwide.com.
Subscribe to our newsletter for timely content in your inbox