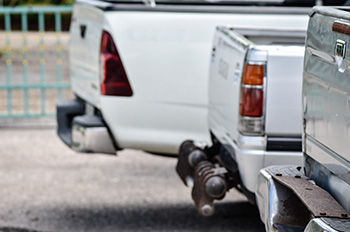 "We only have five pick-ups - we just don't have the time or resources to have a fleet safety program." This is a common response we get from our customers, and we understand the competing priorities you are facing in today's business environment. Unfortunately, it only takes one vehicle accident to significantly disrupt an organization of any size. And the driving environment has gotten worse with the fatality rates increasing 22% since 2019, primarily related to speeding, aggressive driving, and distracted driving1.
Can you afford to lose an employee who is severely injured or dies in an accident? Auto accidents are the leading cause of work-related fatalities in the US, making up about 24% of all on-the-job fatalities2.
Can you be without your vehicle for a long period of time? Repair shops are dealing with labor and part shortages, which have pushed average repair times out 6 to 8 weeks3.
Can you handle the time, non-insurable costs, and stress associated with defending your organization if one of your drivers injures or kills another in an accident?
Can your policies and procedures hold up against accusations of negligent hiring, entrustment, or supervision of a driver who was involved in a serious accident?
It used to be that only large fleets or fleets with large trucks were expected to have fleet safety programs in place. Today, expectations are for any size fleet with any vehicle type to have basic fleet controls in place. Minimal controls include:
Written driver safety rules and core policies for safe operation of vehicles including policies against distracted driving and driving under the influence, accident reporting, personal use of company vehicles, etc.
Hiring drivers with minimum levels of driving experience and an acceptable motor vehicle record (MVR).
Driver supervision, such as periodic driver ride-alongs, vehicle telematics monitoring, and at least annual MVR evaluations.
Driver training in core topics such as distracted driving, safe following distances, speeding, intersections, etc.
Systematic inspections and maintenance of vehicles.
DOT compliance for regulated drivers and vehicles as applicable.
It doesn't have to be difficult if you take advantage of Nationwide Loss Control Service's sample resources, training materials and discounted vendor services:
Sample Fleet Safety Manual and Sample Driver Manual (English and Spanish). Includes sample rules, policies, inspection forms, driver evaluations, etc. The manuals are in an editable Microsoft Word format so they can be easily customized to meet your needs.
Utilize our Monthly Infographics for driver safety training ideas and resources. Visit our web site for driver training topics.
Utilize free Safety Source fleet safety videos for group safety training. Sign in to Nationwide to access.
Contact Jeff Maiden of Drivers Alert I LMS Courses® (Jmaiden@DriversAlert.com) for discounted online driver training; as little as $24 per driver annually after set-up. Ask for the Nationwide customer pricing. Drivers Alert also provides other fleet safety services at a discount for Nationwide customers, including a system to obtain and evaluate MVRs.
Contact your agent or your Nationwide Loss Control Services Representative for information regarding our telematics programs. Customers could qualify for free or inexpensive (less than $10.00/mo./vehicle) telematics. Some restrictions do apply, and quantities are limited.
Visit our Medium/Heavy Truck & DOT truck page to assist with your compliance efforts.
Do your drivers understand?
It is important that you fully explain your expectations for safe driving to all drivers, including those driving their own vehicles for organization business. Some may not understand the risks an accident poses to the organization and themselves. Many drivers do not realize how poorly they drive or the consequences of aggressive and distracted driving. We recommend business owners meet at least annually with all drivers to reinforce their expectations for safe and responsible driving as well as the need to adhere to all company policies and procedures.
Click for more information on the 2023 Fleet Risk Environment. Click for our entire inventory of fleet safety resources.
[1] Early estimate of motor vehicle traffic fatalities for the first quarter of 2023 (Crash•Stats Brief Statistical Summary. Report No. DOT HS 813 482). NHTSA
[2] U.S. Bureau of Labor Statistics. Census of Fatal Occupational Injuries, 2021 (bls.gov)
[3] Driving Behaviors Survey Findings: 2023, Nationwide claims data, March 2023
Subscribe to our newsletter for timely content in your inbox