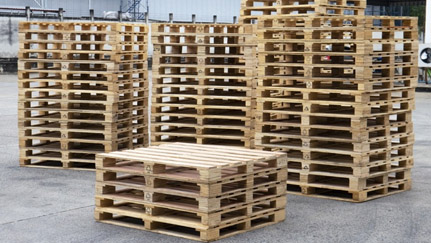 Stockpiling idle storage pallets can present a serious fire hazard. Take steps to store pallets responsibly and minimize risk.
Many businesses that store and ship goods or supplies typically use pallets at their facility. Various amounts of these pallets are often stored in areas throughout the building when not in use. However, stockpiling them could present a serious fire hazard. Because of their dried-out condition, high rate of heat release, and overall arrangement, even a small ignition source could spark a quickly spreading fire that may cause a devastating loss. Fortunately, you can help reduce this risk by moving idle pallets outside and away from your building, or by strictly limiting storage arrangements and employing an appropriate automatic sprinkler system.
General storage tips
When not in use, pallets should be stored outdoors if possible They should be stacked in a flat manner and arranged in stable piles in an orderly fashion. If outdoor space is not available, pallet storage areas should be separated from other storage areas. The National Fire Protection Association (NFPA) Fire Standard states that pallet storage arrangements should be either outside, in a detached structure, or in a properly sprinklered facility.
Required Clearance Between Outside Idle Pallet Storage and Building
Wall Construction
Minimum Distance of Wall From Storage
Under 50 Pallets (Ft.)
50-200 Pallets (Ft.)
Over 200 Pallets (Ft.)
Masonry with no openings
0
0
15
Masonry with wired glass in openings, outside sprinklers, and one-hour doors
0
10
20
Masonry with wired or plain glass, outside sprinklers, and 3/4-hour doors
10
20
30
Wood or metal with outside sprinklers
10
20
30
Wood, metal, or other
20
30
50
Designate an outdoor storage area
When storing Idle pallet stacks outdoors they should not exceed 15 feet in height or cover an area greater than 400 square feet.  Pallets can be stored outdoors as per the following table as per NFPA.
Indoor storage of wood pallets
If your facility has indoor storage of pallets, whether temporary or long term, your building should be equipped with a properly designed automatic sprinkler system. The design of the sprinkler system is dependent on several variables including pallet stack height, building ceiling height, and water flow capacities. In addition, rack storage should not be permitted unless protected by an Early Suppression Fast Response (ESFR) sprinkler system, in accordance with NFPA 13, Standard for the Installation of Sprinkler Systems.
Plastic pallets may be a greater hazard
Plastic pallets other than non-expanded polyethylene solid deck pallets can present an even greater fire hazard than wood pallets. See NFPA 13 for specifics of protection.
Nationwide Loss Control is at your service
We in Nationwide Loss Control can assist you in evaluating your storage of idle pallets as it relates to adequate automatic sprinkler design, safe distances, and storage arrays. Feel free to contact one of our local Nationwide Loss Control Associates for assistance.
Other Loss Control Services resources on idle pallet safety:
Infographic: Store Pallets Properly to Lower Fire Risk
Bulletin: Store Your Idle Pallets According to NFPA Standards
Subscribe to our newsletter for timely content in your inbox