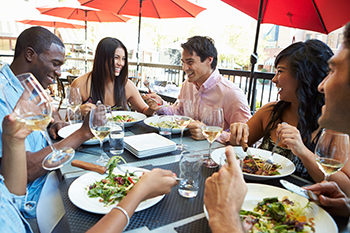 Things to keep in mind when converting a restaurant's outdoor space into dining areas.
As a carrier focused on food services, we take pride in understanding your business, the issues you face and emerging trends. Outdoor eating has become more popular, and you may be encouraged to add outdoor seating to your operation. Here are some tips to help safely convert outdoor areas for dining. 
Ensure appropriate protection from vehicle and sidewalk traffic is in place through the use of highly visible barriers and signage. Barriers designed specifically for this purpose are preferred. Careful assessment should be performed to assure dining areas are not created in hazardous areas such as high-vehicle traffic areas with low visibility (including corners or high vegetation areas).
Dining spaces should be properly designed to reduce the potential for slips and falls. Walking surfaces should be properly secured, level, and free of slip and fall hazards. Avoid loose surface material (pavers, crushed stone, etc.).
Steps up/down should be properly marked and highly visible, with appropriate signage and high visibility markers, such such as brightly colored paint or theater lighting. Dining furniture should be placed an appropriate distance from hazards, such as curbs or changes in elevation.
Adequate lighting should be in place in all customer areas to provide clear visibility for walking, to help prevent slips/trips/falls. Assure wires from temporary lighting are properly guarded to prevent tripping. Properly secure temporary lighting against tipping or falling, to reduce the potential for injury to staff or patrons.
Ensure slip/trip/fall hazards are mitigated with inspections occurring regularly and immediate corrective action taken, when needed.
Maintain a clear path for pedestrian travel near public sidewalks and restaurant walkways. Designated entrance and exit pathways should be established in customer areas to help facilitate social distancing.
Keep dining areas 6' from corners, crosswalks, curbs, bus shelters, and public seating to facilitate social distancing and to help reduce slip/trip/fall exposures. Do not block public sidewalks, exit doors, or access to fire hydrants.
Ensure seating and tables do not encroach on public accessibility. There should be 36" of space to allow for wheelchair passage.
Commercial grade tables and chairs designed for outdoor use should be used, as indoor chairs or residential chairs will deteriorate and are more susceptible to failure. Furniture used by patrons should be carefully selected to assure it is appropriate for the space used, with considerations for stability, strength, and resistance to wear and tear, to help reduce the potential for customer injury.
Furniture should be easy to clean and sanitize (avoiding things such as absorbent materials) and regularly inspected for damage.
Umbrellas, temporary awnings/coverings, and tents should be properly secured/anchored and free of damage to prevent injury. Protocols should be in place to remove and secure these items during weather events such as high wind/storms.
ABC (alcohol and beverage control), ADA-compliance, food safety and sanitation, and other regulations should be followed in accordance with, local, state and federal regulations.
Post signage for guidance to customers on restaurant protocols, such as exit and entrance points, seating requirements, waiting area and ordering protocols.
Create designated sanitization stations at entrances and exits, as well as in dining areas. Outdoor handwashing stations are preferred.
To help reduce the potential for a fire, do not use open flames (such as candles, 'tiki' torches, etc.) in outdoor dining areas.
If pets are permitted, signage should be posted that they remain on a leash and under the supervision of the owner/caretaker.
Businesses don't have to go it alone. To help with this process, restaurants can seek the help of Nationwide Loss Control professionals to determine what actions they need to take. More food service-related resources are available at MyLossControlServices.com.
Subscribe to our newsletter for timely content in your inbox