Woodworking operations create a combustible dust, which can cause risk for property loss if it isn't properly handled. This article outlines an approach to help reduce that risk.
Combustible dust explosions can be an under-recognized hazard in woodworking facilities. According to NFPA, a catastrophic explosion can occur from as little as 1/32 of an inch of accumulated dust (about the thickness of a dime), covering just 5% of a room's surface area.  When ignited, a dust cloud can produce a fireball 8 to 10 times larger than the original cloud. Three of the four deadliest incidents have been dust explosions as cited by the U.S. Chemical Safety and Hazard Investigation Board (CSB; www.csb.gov).
For facilities or processes that handle dust, the owner/operator of that process has a responsibility to determine if the dust handled poses a combustible dust fire or explosion hazard. Many dusts are combustible, and if these dusts are suspended in air, they become a potential explosion hazard. NFPA standards require that all combustible dust users complete a Dust Hazard Analysis (DHA). A DHA is a methodical review of potential fire or explosive hazards associated with combustible dust and a plan to mitigate the risk. Through the DHA, the aim is to evaluate the dust hazards and determine which process is hazardous, provide a solution to eliminate or mitigate the hazard, and have a plan of action in case of an emergency.
The dust explosion pentagon below depicts the five elements necessary for a dust explosion to occur:
Fuel – combustible dust
Dispersion – suspension of the dust into a cloud at a sufficient concentration
Confinement – enclosed area or process
Oxidant – typically air
Ignition – heat, spark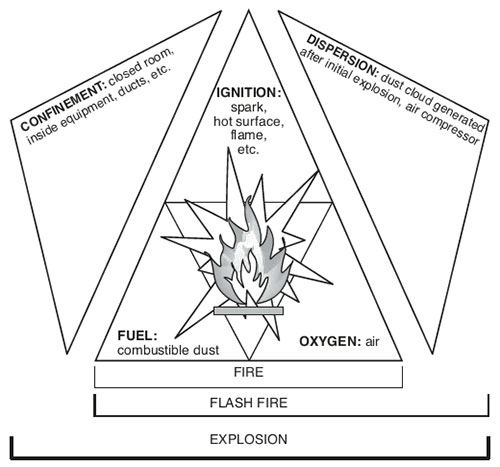 To help reduce the threat wood dust poses, implement a comprehensive housekeeping and maintenance program. Some areas and processes tend to accumulate dust, including:
Vertical surfaces – walls and equipment
Horizontal surfaces – ceiling joists, racking systems and tops of equipment
Concealed spaces – behind equipment, inside electrical switchgear, transformers
Motors – inside housings and motor control boxes
Consider housekeeping a top priority to keep these areas cleaned regularly, to prevent and limit dust collection. Wood dust can accumulate quickly in closed-off (confined) and difficult areas to access. Effective vacuuming is a simple method of removing dust. Before vacuuming, power-down equipment, de-energize the equipment, and breakers to limit potential safety hazards.
Consider the NFPA's requirements and consult with a Nationwide Loss Control Services associate for more information on DHA, fire prevention and protection features to consider in your woodworking operations.
NFPA standards for combustible dust that pertain to woodworking include:
NFPA 652: Standard on the Fundamentals of Combustible Dust, 2019 Edition
NFPA 664: Standard for the Prevention of Fires and Explosions in Wood Processing and Woodworking Facilities, 2020 Edition
NFPA 654: Standard for the Prevention of Fire and Dust Explosions from the Manufacturing, Processing, and Handling of Combustible Particulate Solids, 2020 Edition
NFPA 68: Standard on Explosion Protection by Deflagration Venting, 2018 Edition
NFPA 69: Standard on Explosion Prevention Systems, 2019 Edition
Improper mitigation of dust hazards can bring a higher risk for a property loss in a woodworking operation. By taking a strategic approach, as outlined in this article, the risk of loss can be greatly reduced. Nationwide's Loss Control team is available to provide solutions to help our members manage risk. Contact Nationwide Loss Control Services at LCS@Nationwide.com or 866-808-2101.
Subscribe to our newsletter for timely content in your inbox