Although construction work may be complete at your jobsite, the safeguarding process is not over. This article explains the importance of hazard mitigation at the post-construction jobsite.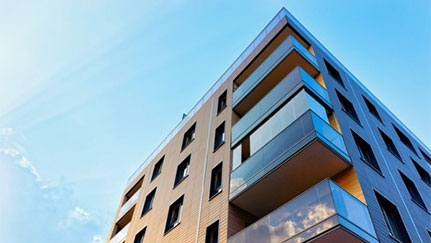 Project At Completion = Highest Value Subject to Loss
The construction dust may have settled on the jobsite. However, the work and safeguarding is far from over. This is the phase of construction where your building is at its maximum value and can pose your highest dollar risk. It is critical that contractors remain vigilant and have a formalized plan in place to effectively manage water damage during this phase of construction.
Example Scenario: A 35-story luxury downtown high rise is nearing completion. A temporary certificate of occupancy has been issued and the course of construction policy has expired. The builder is completing final punchlist items and has hired a subcontractor to install appliances on this turn-key project. No water damage prevention plan is in place nor is a wet work policy required. A washer hose is cross threaded by the installer before Thanksgiving. Water runs downs 31 stories causing $7,000,000 in restoration costs, building damages and income loss. Repair of this damage will require an addition three months of construction.
This loss example reinforces the need to address water damage prevention in all phases of construction. Post construction can often be overlooked for many reasons:
Contractors looking forward to the next project
Limited site presence
Contractors may believe they are no longer responsible
Equating complete with safe
Tips to Help Successful Management of Post-Construction Water Damage Risk
Continue to use water monitoring systems (e.g. water, humidity, temperature sensors) until final transfer has taken place
Ensure fire sprinkler systems are centrally monitored
Monitor weather for adverse conditions that could affect the project
Require heat to be maintained in areas that are subject to freezing
Verify valve maps are in place and key stakeholders know where and how to shut off water
Keep water damage mitigation equipment onsite and ensure your response plan is at the ready
Inspect the building on the regular basis and utilize the closing checklist
Consider using 24-hour security until final transfer of ownership
Ensure complaint reporting and handling procedures are established
Correct deficiencies promptly and document all re-work
Document project closeout procedures
Maintain critical construction documents, photos, videos for a minimum of 10 years or in accordance with the Statute of Repose for the states you conduct work in
In the event of a loss:
Take appropriate steps to mitigate further damage
Immediately notify your insurance broker or carrier
Refrain from making any statements surrounding the loss or accepting liability
Take photos
Secure the job file and assemble all documentation related to the project
Do not provide documents to anyone other than your insurance broker, insurance carrier or legal counsel
Subscribe to our newsletter for timely content in your inbox