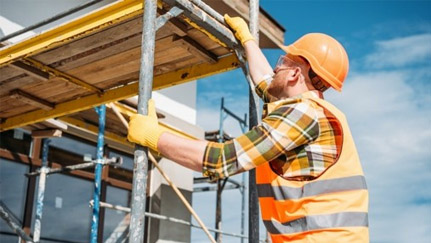 Falls from elevation continue to be a leading cause of death in the construction industry. In 2018, of the 1,008 fatal injuries in construction, 338 were the result of falls – the highest total in the 26 years of the Census of Fatal Occupational Injuries . It's also no coincidence that four of the top 10 OSHA citations cited in construction involve fall hazards.
To assist in the prevention of falls in construction, Nationwide Loss Control Services has a team of safety professionals who strive to ensure that our customers' workers make it home to their loved ones every day. We're also participating in this year's OSHA Stand-Down and encourage our customers to do the same – by taking a break to focus on fall hazards and reinforce the importance of fall prevention.
Although fall prevention takes many forms, one topic that's universal to most construction firms is preventing falls from ladders. One way to do this is to think "Ladders Last" and implement a ladder-alternative jobsite. We've got a resource to get you started. Here's a few other things you can do:
Focus on scaffolds . As a ladder alternative, scaffolding offers a larger and more stable work platform. However, since multiple contractors and trades often use the scaffolding it comes with the potential for multi-casualty events and increased exposure to third-party over action claims, and severe project delays or project failure can result in the event of an accident. Nationwide Construction recently released a Scaffold Safety bulletin that provides you with valuable knowledge in the safe use of scaffolding.
Consider aerial lifts. Another alternative to A-frame ladders is the use of aerial lifts, as they allow workers to adjust to the work height, move horizontally and access areas where it is simply too high to access by ladder. While aerial lifts are a safer alternative to ladders, they come with their own unique risks. Employers must make sure users are properly trained and equipment is safe to operate. Two great resources to learn more are our Aerial Lift Safety bulletin and Aerial Lifts Checklist.
We hope you'll consider these and other fall prevention topics and take part in the National Safety Stand-Down to Prevent Falls in Construction. Need more information? Loss Control Services provides 24/7 access to resources at www.MyLossControlServices.com, including virtual click to chat. You can also reach us by email at LCS@nationwide.com or by phone at 1-866-808-2101.
Sources of Additional Information:
CPWR, Center for Construction Research and Training
Subscribe to our newsletter for timely content in your inbox