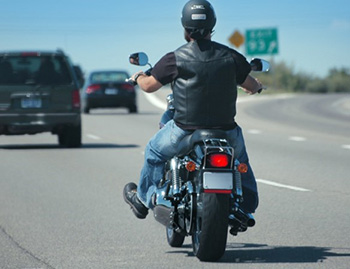 May is Motorcycle Awareness Month and it is a great time to educate drivers about preventing accidents with motorcycles.
Do your drivers know?1
Each year approximately 5,000 motorcyclists die, making up 14% of all roadway fatalities.
An additional 84,000 motorcyclists are injured.
Per mile traveled, motorcycle fatalities occur 29 times more frequently than car fatalities!
41% of all motorcycle fatalities involving another vehicle occur when the vehicle is turning left.
Do they understand?
Motorcycles stop much faster than other vehicles, so a driver needs to increase their following distance when behind them.
Motorcycles often blend in with other traffic or are hidden in a driver's blind spot making it very important to:

Look twice before turning or changing lanes
Always use a turn signal
Not drive distracted

The need to use extra caution when at intersections, particularly when making left turns.
Motorcycle Infographic
Our Motorcycle Awareness Infographic addresses many of these key topics and can assist with driver education and training. Use it:
As an awareness piece for poster boards or driver mailings
As a training topic in driver safety meetings or toolbox talks
As a guide for managers when conducting safety ride-alongs with drivers
A bulletin specific to truck drivers is also available.
1 Traffic Safety Facts, 2019, Motorcycles DOT HS 813 112, National Highway Transportation Administration, September 2021 
Subscribe to our newsletter for timely content in your inbox