Learn tips on how to prevent accidents from happening in and around your store.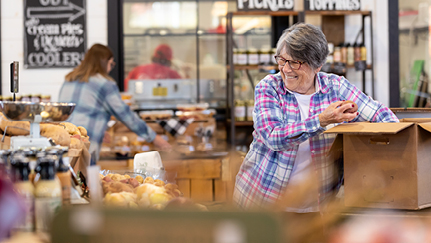 There are a variety of liability issues that convenience, grocery and other store retailers face on a daily basis. These include:
Injuries caused by store displays or improperly stacked goods
Slip and fall
Parking lot safety concerns
The presence of hazardous substances in the store
As a retailer, you have a duty of reasonable care to keep your retail areas in a safe condition for customers. You can ensure you're exercising reasonable care by taking appropriate risk management measures.
If you lease space to others, you can protect yourself by requiring indemnity provisions in the leasing contract and obtaining additional insured status on the lessee's insurance policy.
Displays or improperly stacked merchandise
Store displays and stacked merchandise create liability concerns for retailers through faulty design (such as display racks with hard-to-see, protruding lower shelves), poor placement and a possibility of toppling on customers.
There are several  precautions you can take to ensure you don't incur expenses as a result of store displays or improperly stacked merchandise:
Establish written procedures and employee training for stocking shelves and preparing displays.
Conduct periodic inspections of displays and shelves for hazards.
Post signs asking customers to request employee assistance for items on tall shelves.
Clearly mark lower-level shelves that protrude into aisles.
Use contractual indemnity provisions for any shelving/displays obtained from other companies.
Slips and falls
Liability for slips and falls can occur as a result of untreated weather conditions, poor cleaning techniques or schedules and slippery flooring materials. Slips and falls can occur in almost every location, but these accidents can be prevented with simple changes or adjustments.
Establish written housekeeping procedures to keep all areas clean and orderly, and maintain a housekeeping log.
Conduct periodic inspection of the premises for falling hazards, and maintain records of inspection.
Require employee training in matters of safety procedures, cleaning operations and inspection procedures. Maintain a record of training.
Use mats at doorways to the exterior and all other locations where slippery conditions are foreseeable.
Use posted caution signs or barriers to warn and/or prevent access to any hazards
Parking lot safety concerns
Retailers should be aware of the liability concerns for the exterior areas of their stores, including parking lots, sidewalks and crosswalks. Liability can be incurred in these exterior spaces as a result of weather conditions (either ignored or improperly handled), improperly maintained surfaces, inadequate signs, safety mirrors, pavement markers or shopping carts. There are several steps retailers can take to minimize losses due to parking lot safety.
Establish procedures for the prompt removal of snow, ice and other environmental concerns. Include procedures for the application of salt or sand, when appropriate.
Use clearly marked signage, pavement painting and safety mirrors.
Provide clearly marked bike parking.
Establish procedures for the containment and collection of shopping carts.
Periodically inspect parking lots for hazards.
When using a contractor, require indemnity provisions in the contract and an additional insured status on the contractor's policy
Presence of hazardous substances
Hazardous substances are liability mine fields, in terms of transporting, storing and cleaning up after spills. There are many federal regulations related to hazardous substances including guidance on proper transportation, storage, labeling, cleanup and emergency procedures.
You should be aware of any regulations surrounding the presence of chemicals on your property. You should also put appropriate measures in place to ensure compliance.
Keep up on current hazardous materials regulations issued.
Develop and review operations and policy manuals.
Properly classify and label hazardous products.
Schedule appropriate employee training about safety procedures, storage, handling and other hazards.
Develop emergency action plans.
For self-service gas stations:

Provide adequate distance between gas pumps and customer parking spots
Provide adequate guards or barriers around gas pumps
Locate pumps a safe distance from entrances and exits
Subscribe to our newsletter for timely content in your inbox