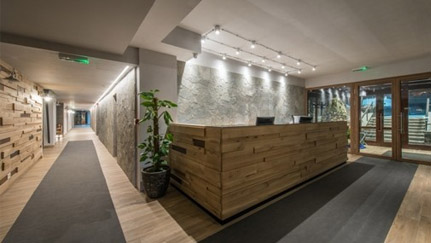 A closed, or partially closed hotel can be at risk for damage. This article outlines steps you can take to reduce your risk.
COVID-19 has led to a reduction in travel and therefore an increase in partial and full hotel closures to save operating costs.
A closed or partially closed hotel has increased risks for water damage, freezing pipes, fire, vandalism, mold, crime, vagrant issues, theft, and other weather-related issues. To help limit the risk of a loss during an idle period, Nationwide Loss Control recommends observing the following procedures:
Maintain as applicable — all fire protection such as automatic sprinklers, booster and fire pumps, fire alarms such as sprinkler tamper and flow, smoke alarms, security/burglar alarms, interior and exterior lighting, and any onsite guard service.

Monitor sprinkler systems using a central station to provide early detection of a pipe failure

In colder climates, adjust the temperature to a minimum of 40°F, and have a monitoring system that provides notifications if the building's temperature dips below a pre-determined number.

Insulate pipes most vulnerable to freezing with pipe insulation.

Refrigeration operations should maintain all temperature alarms and refrigeration equipment. Any fire protection in these areas, such as Dry Systems or Pre-actions systems should also continue to be maintained. Remove any perishable foods.

Maintenance of the building should continue. This should include inspecting the roof for leaks, any water mitigation, noting and repairing any weather-related damage, etc.

Notify the Property Insurance Carrier and your Insurance Agent. In addition, review your property policy with your Agent and address any issues with your policy related to a vacant or idle hotel as needed.

Notify utilities of the closing, however electrical, heat, and water must be maintained to prevent weather conditions from damaging the facility.

Unnecessary utilities can be shut off such as domestic use water, water heaters, internet, cable service, etc.

Notify the local fire department and emergency response teams of the building's status.

As applicable, remove and/or dispose of any hazardous materials, and any flammable liquids. Deep fat fryers should be drained, and the fat disposed of properly.

Continue regular water quality inspections for pools and ensure proper maintenance of pool equipment

Maintain in operation any needed pumps, drainage pumps, and sump pumps

EDP, data should continue to be backed up and stored offsite or in fire proof safes or even in a cold or hot site as applicable.

The facility should be inspected prior to shut-down and periodically thereafter.
Items to Inspect
Inspect exterior of the building for weather related damage, lighting, unauthorized entry, and vandalism

Interior visits should include walkthrough of all areas of the building confirming that all necessary utilities are in operation, all alarms are in operation, and any fire protection remains in operation. In addition, inspect for any weather-related damage to the interior of the building, such as water, mold, freezing, etc.

The exterior of the building should continue to be maintained with exterior lighting, general maintenance, grounds keeping, etc.

Check the laundry area and ensure proper housekeeping and lint removal

The following items should be checked in each room:

All doors are locked

PTAC units are in working order and properly maintained

Smoke detectors are operable

Refrigerators are empty

Unused appliances are unplugged such as coffee makers and refrigerators

Check for bed bugs and exterminate if needed

Windows secured from wind or storm damage

Faucets are shut off

These inspections should be formal with records maintained. A check sheet should be developed with your site-specific inspection procedures and critical items to be checked related to your facility and operations.
Conclusion
Closed or partially closed hotels are at a higher risk for a property loss. By taking a strategic approach as outlined in the above steps, the risk of loss can be greatly reduced. Nationwide's Loss Control Services team is available to provide solutions to help our members manage risk.
Subscribe to our newsletter for timely content in your inbox