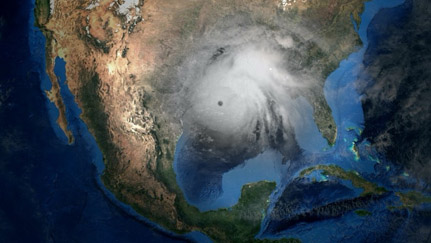 Tips to prepare your business in the event of severe weather or hurricane.
Hurricane Laura, which recently hit Texas and Louisiana, was a category 4 storm (130-156 mph sustained winds) that caused billions of dollars of damage and loss of life. The devastating effects of high winds and the power of water in both the coastal and inland areas serve as a reminder these can happen just about anywhere.
The Atlantic hurricane season runs from June 1 to November 30, which means we are still in hurricane season, and will be for some time. For 2020, the National Oceanic and Atmospheric Administration (NOAA), predicted an above-normal season, with the possibility of 13-19 named storms, 6-10 hurricanes and 3-6 major hurricanes (category 3, 4, or 5). Strong winds, tidal surge, and heavy flooding are common when a storm makes landfall and the storm progresses inland.
Below are some specific steps you can take to make sure you are prepared, if you are in an area that could be affected by a hurricane:
Roof covers — this is the building's first line of defense against natural hazards. Inspect for any loose or missing materials and make any necessary repairs. Remove all debris. Clean roof drainage systems including gutters and downspouts. Direct water away from the building. Roof-mounted equipment should also be inspected. Verify that all are securely attached to the roof structure. Inspect for and repair any gaps around equipment that would allow water into the building.
Windows — Inspect all exterior windows to identify any damage, cracks, or other areas where the elements may intrude inside. If required by local code, ensure that all windows meet impact resistance requirements. Ensure that all windows are closed and secured before the storm hits. If installed, use rolldown or accordion shutters over window or door openings. If this is not practical, plywood coverings over doors and windows may help to reduce damage.
Pre-disaster planning — Communicate expectations to employees of what each person's role will be in the event of a storm. Develop a crisis prevention plan that includes employee contacts, use of social media, and/or toll-free numbers for updates. Communicate regularly with employees before, during and after a storm.
Backups — Regularly back up important company records to a safe location offsite. If provided, ensure that any emergency power generators or similar sources are regularly maintained, tested, and run prior to any storm.
Emergency action and business contingency planning are part of a proactive disaster recovery plan that businesses should prepare for. Emergencies may also include tornados, floods, fire, loss of power, etc.
Developing and implementing these cautionary plans also represents a way of planning a reasonable response to a potential emergency.
Here are several resources regarding emergency action plans business contingency planning for your risk management and safety needs.
Occupational Safety and Health Administration (OSHA) provides an Evacuation Plans and Procedures eTool to help businesses develop and implement an effective plan.
Nationwide has several resources available to help in your emergency action and contingency planning.
We've also partnered with the Insurance Institute for Business & Home Safety, of which Nationwide is a member company, to provide the following additional resource:
Subscribe to our newsletter for timely content in your inbox