dormakaba has announced a voluntary recall of some delayed egress door locks. Find out what you should do if you have one of the recalled products.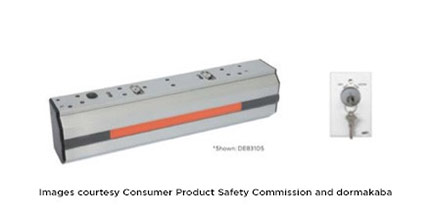 dormakaba has initiated a voluntary recall on their delayed egress door locks, due to risk of entrapment and inability to vacate a location during an emergency. The recall involves Delayed Egress Locks with the model number DE8310 found on the inside of the wiring cavity cover plate. 
According to the Consumer Product Safety Commission (CPSC), there are approximately 2,400 units that have been installed for customers throughout the United States from October 2019 to March 2021.
These locks, commonly found in schools, healthcare facilities, and lodging or residential facilities, detect when pressure is applied to a door and are set with a release delay of 15 or 30 seconds. The recalled locks include an internal and external alarm sounder, key switch for reset and override, and a building code sign for single out swinging doors. Delayed egress locks are typically used on perimeter exit doors and internal fire doors to discourage or delay unauthorized exit while providing a safe means of escape during a fire or other catastrophic emergency.
Facilities that are currently using the recalled door locks should contact dormakaba for instructions on receiving a free repair of the firmware by a technician. For more information, you can reach dormakaba by phone at 800-265-6630 from 8 a.m. to 5 p.m. ET Monday through Friday; by email; or by viewing the company's safety notice.
Subscribe to our newsletter for timely content in your inbox