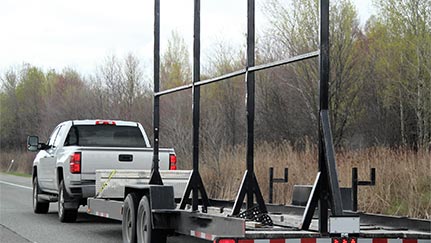 Overview of the FMCSR (DOT) regulations including who needs to comply, who needs a commercial drivers license (CDL), and a summary of key regulations.
The Federal Motor Carrier Safety Regulations (FMCSR) are the DOT rules which regulate vehicles on the roadway. Much confusion exists about who needs to comply with FMCSR. Many organizations think they do not have to comply because they do not have large trucks with CDL drivers, or their vehicles do not cross state lines. This is incorrect. Vehicles as small as pick-ups may require compliance with FMCSR and many states have incorporated some or all of the FMCSR into their state regulations.
Commercial motor vehicles
The FMCSR apply to Commercial Motor Vehicles (CMV) operating in interstate commerce. A CMV is defined as any vehicle or trailer:
With a gross vehicle weight rating1 (GVWR) or gross combination weight rating2 (GCWR) of 10,001 pounds or more.
Designed to transport more than eight passengers (including the driver) for compensation
Designed to transport more than 15 passengers (including the driver) not for compensation
Used in transporting hazardous materials under 49 U.S.C. 5103 and transported in quantities requiring placarding.
1GVWR is designated by the manufacture and includes the sum of actual vehicle weight and its maximum load capacity.
2GCWR is the sum of the GVWRs of the power unit and the trailer. The GCWR only applies if the vehicle is pulling a trailer
Interstate Commerce: Means trade, traffic, or transportation in the United States between a place in a state and a place outside of such state (including a place outside of the United States). Also, if you move a load solely within a state but transfer it to another CMV or mode of transportation that transports it across state lines, you are operating in interstate commerce.
Intrastate Commerce: Organizations not involved in interstate commerce are regulated by the individual states. Many states have adopted some or all the FMCSR regulations into their state regulations. Some states have different definitions of what is a commercial motor vehicle. For this reason, additional research is needed to determine how your state is enforcing these requirements. All states are required to follow general CDL licensing requirements but may have some variations.
CDL license
A Commercial Driver's License (CDL) is required to drive larger CMV or to haul hazardous materials. A Commercial Learners Permit allows a driver to operate certain vehicles that require a CDL while the driver is in training.
A CDL is required when operating:
Class A: A combination of vehicles with a GVWR of 26,001 or more pounds, provided the vehicle being towed is in excess of 10,000 pounds GVWR;
Class B: A single vehicle with a GVWR of 26,001 or more pounds;
Class C: (unless class A or B applies)

A vehicle designed to transport 16 or more passengers, including the driver
Any vehicle that is transporting hazardous materials and is required to be placarded in accordance with State and Federal regulations.
CDL endorsements are required when operating the following:
T - Truck with double or triple trailers (knowledge test)
N - Truck with a tank (knowledge test)
H - Truck carrying hazardous materials (knowledge test)
X - Combination of a tank vehicles and hazardous materials (knowledge test)
P - Passenger carrying vehicle (knowledge & skills test)
S - School bus (knowledge & skills test)
Additional information about the classes of CDL and CDL endorsements can be found here.
Assess your level of compliance
Click here for a checklist you can use to assess your level of compliance with key FMCSR requirements. The checklist includes links to the applicable regulations.
Additional information
Subscribe to our newsletter for timely content in your inbox