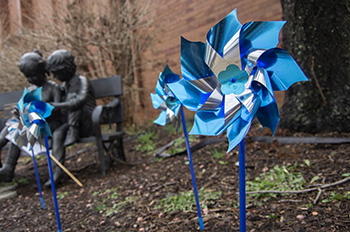 In 1983, President Ronald Reagan proclaimed April as National Child Abuse Prevention Month. The month is dedicated to promoting the safety and well-being of children by increasing awareness about child abuse and prevention efforts. The color blue is associated with the month, and often, you will see blue pinwheels located in yards and at organizations symbolizing the "happy childhoods and bright futures" that all children deserve.
Child abuse and neglect should be combatted in all forms: physical, emotional, sexual as well as online sexual exploitation. The Child Abuse Prevention and Treatment Act (CAPTA) defines child abuse and neglect as, at a minimum:
"Any recent act or failure to act on the part of a parent or caretaker, which results in death, serious physical or emotional harm, sexual abuse or exploitation; or
An act or failure to act which presents imminent risk or serious harm."1
Youth serving organizations strive to create a safe environment for youth, employees, and volunteers so that children can grow, learn, and have fun. The best way to protect children from abuse, and protect yourself, your employees, volunteers, and organization from allegations of child abuse, is to prevent abuse and neglect before it happens. A single allegation of child abuse, whether it proves true, can devastate your reputation, and destroy your organization.
Take the initiative during Child Abuse Prevention Month to review and evaluate your organization's current abuse prevention programs and use this as an opportunity to further strengthen your efforts toward protecting the children, staff, and communities you serve. When conducting program reviews, there are two important components that should be addressed:
Child Abuse Prevention Program: Personalized, stand-alone, written abuse prevention policies and procedures, including but not limited to screening and hiring protocols, a code of conduct with boundary violations listed, transportation and vehicle usage policy, training, reporting, investigation, disciplinary and documentation procedures, and incident response protocols.
Legally Mandatory Reporting Requirements: If someone within the youth-serving organization suspects that a child is being abused, they should immediately follow their legally mandated reporting procedures.
We can all agree that children deserve to be loved, protected, and kept safe, and April is a month that reminds us how important it is to focus on that goal.
To assist Nationwide's youth serving organizations, here is a list of resources, programs, and product/service discounts found on our website, MyLossControlServices.com:  
Everyone can play a role in supporting children and families in order to prevent child abuse and neglect. In addition to Nationwide's pieces above, there are many resources and services available to support these initiatives found at the Children's Bureau within the U.S. Department of Health and Human Services.
[1] CAPTA Reauthorization Act of 2010 (P.L. 111-320), 42 U.S.C. § 5101, Note (§ 3)
Subscribe to our newsletter for timely content in your inbox